Bir aile üyesine göre, Kraliçe VE Günü'nü 75 yıl önce "Ters Külkedisi" anında Ritz otelde dans ederek kutladı.
İngiltere, Nazi Almanya'ya karşı Avrupa'da zaferi kutluyorken, Kraliyet Ailesi ve Buckingham Sarayı Londra'daki kalabalıkların odak noktasıydı.
Ama aynı zamanda o zamanlar Prenses Elizabeth ve kız kardeşi Prenses Margaret için nadir bir özgürlük gecesiydi.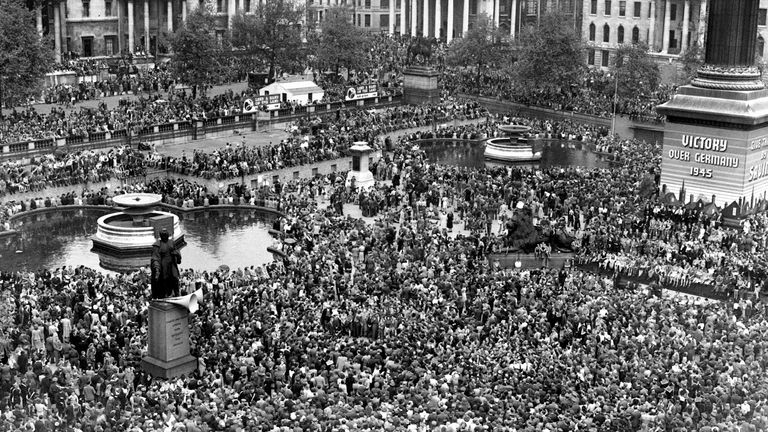 Kraliçe'nin kuzeni Margaret Rhodes o gece kalabalığa katıldı.
Kızı Victoria Pryor, gruba Kral George VI ve Kraliçe tarafından dışarı çıkmaları için izin verildiğini ve Prenses Elizabeth'in üniformasını giydiğini söyledi.
Bayan Pryor Sky News'e şunları söyledi: "Mumya bunun en heyecan verici, heyecan verici bir gece olduğunu söyledi ve ona her zaman bir Külkedisi anı olarak ama iki prenses için tersini söyledi.
"Çıktılar ve herkes Kral ve Kraliçe'nin balkona çıkmaları için bağırıyordu. Ebeveynlerini bu pozisyonda balkonda sokakta sıradan insanlarla görmek için kesinlikle olağanüstü olmalıydı."
Bayan Pryor, annesinin sık sık The Ritz otelinde nasıl dans ettiklerini hatırlamaktan hoşlandığını söyledi ve şunları söyledi: "Hepsinin en muhteşem zamanı vardı.
"Trafalgar Meydanı'na ve The Ritz'e gittiler ve mumya kongeyi The Ritz'den geçirdiklerini söyledi. Akşam yemeğini yiyen olgun kadınlarda onaylanmama durumu çok parlaktı.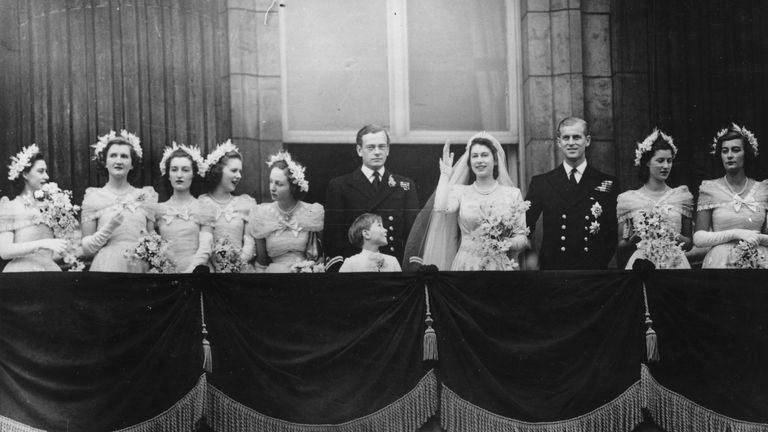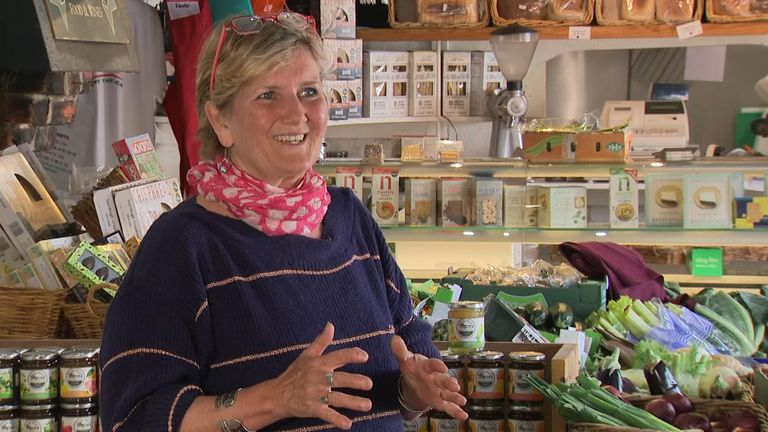 "Tüm bu insanları Hyde Park'ta öpüşürken ve kanişlerken görmenizin şaşırtıcı olduğunu ve hepsinin çok korumalı bir hayatı olduğunu söyledi. Sarılma ve sevgi dolu bu çığır açmayı görmek büyük bir göz açıcıydı."
O gecenin hikayesi annesinin The Final Curtsey adlı kitabında anlatılıyor.
2016 yılında ölen Margaret Rhodes, İkinci Dünya Savaşı'nın büyük bölümünü iki prensesle geçirdi ve sona erdiğinde Buckingham Sarayı'ndaki odalarda kalıyordu.
Bayan Pryor'a göre Kraliçe, annesinin VE Day gecesinin kitabını yazmaya geldiği olayları hatırlamasına yardım etti.
"Kraliçe ve Kraliçe'ye çok cömertçe kendi günlüğünden çok fazla bilgi verdiğini sordular, bu beklemeyeceğiniz ve gerçekten güzeldi," dedi Bayan Pryor.
Prenses Elizabeth tarafından o gece giyilen üniforma şu anda Londra'daki Ulusal Ordu Müzesi'nde sergileniyor.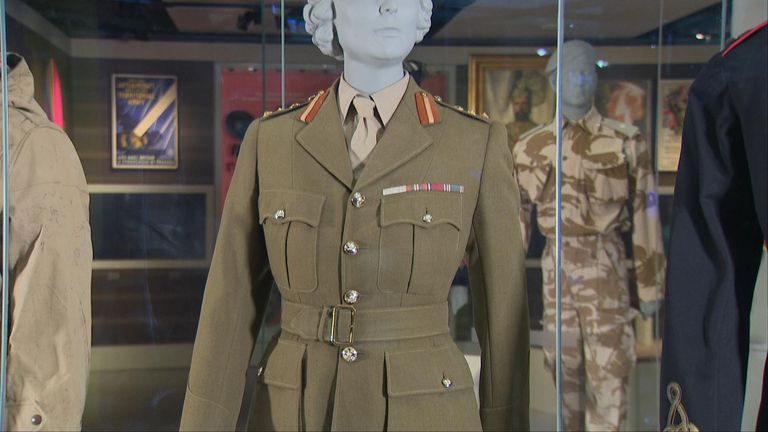 Savaşın sona ermesinden sadece dört ay önce Yardımcı Bölge servisine katıldı, ancak arşivlerde son zamanlarda bulunan bir mektup bunun nedenini ortaya çıkardı.
Sadece babasının ona katılmaya isteksiz olmaması değil, Prenses Elizabeth'in kabakulak olmasıydı.
Ulusal Ordu Müzesi'nde koleksiyon geliştirme başkanı Emma Mawdsley, prensesin 18 yaşında katılmaya ilgi duyduğunu söyledi, ancak babası tahtta ilk sırada bir işte olduğunu hissetti.
Ancak, genç prenses katılmak için "ısrarcı" idi.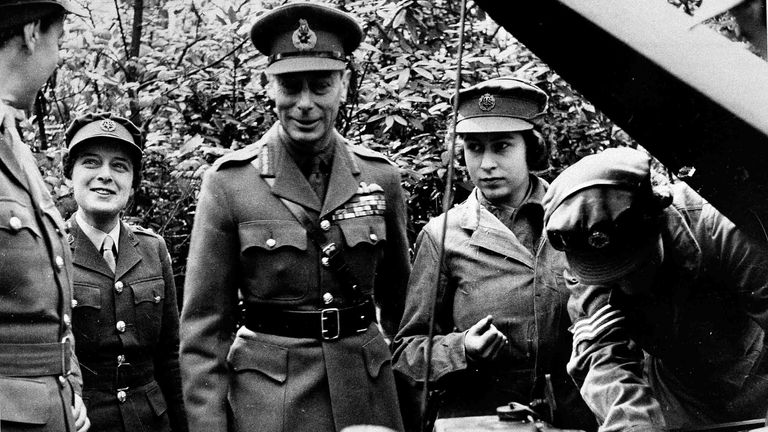 Arşivdeki daha fazla mektup, kaydolmasını görmek için hizmet eden diğerlerine ne kadar büyük bir moral artışı olduğunu gösteriyor.
Bayan Mawdsley ekledi: "Ordu, Donanma veya Hava Kuvvetleri kadar çekici değil.
"Yeşil üniforma en göz alıcı, çoraplar ve kahverengi ayakkabılar değildi. Çılgınca gözüküyor ama kaydolmak insanlar üzerinde bir etkisi oldu.
"Bu nedenle, ATS'ye katılan genç prensesin önbelleğine sahip olmak hizmet için çok önemliydi ve işe alımda yardımcı olurdu."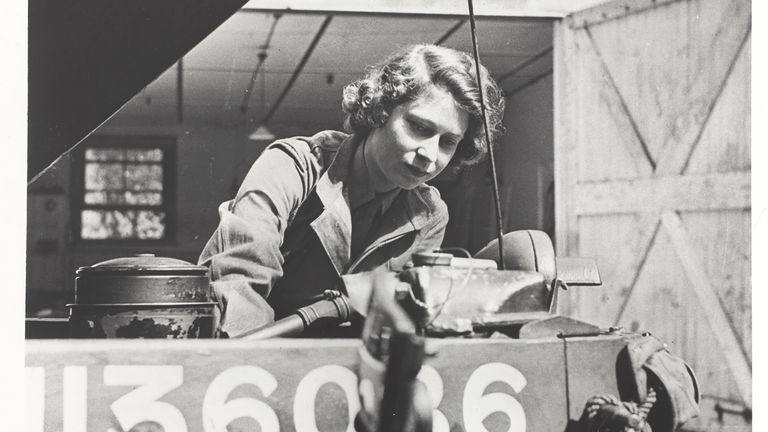 Cuma akşamı Kraliçe Windsor Kalesi'nde kaydedilen bir mesajla ülkeye hitap edecek.
Saat 9'da yayınlanacak, aynı zamanda babası Kral George VI, 1945'te ülkeye bir radyo adresi yaptı.
Kraliyet ailesinin diğer üyeleri gazilere video görüşmeleri yaparken, Prens Charles ve Cornwall Düşesi ülkeye İskoçya'dan iki dakikalık bir sessizlik içinde liderlik edecek.